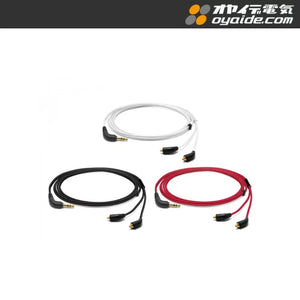 Precisely the MMCX plug that has been designed and precision management and new equipped, achieve the best fit of the earphone.

Beryllium copper MMCX ring portion to maintain the excellent durability in repeated attachment and detachment of.

Gold-plated to MMCX plugs and 3.5 stereo mini plug, improve the high sound quality and corrosion resistance.

Comfortable fit in the "curved MMCX mold" with no discomfort to touch the skin streamlined.

Achieve a smooth ear in not subjected to a metal wire "wire-less ear-hook method".

To reduce the load on the plug in the "curved mini plug" Works Nari and the follow-up property, prevent disconnection accident.

The cable conductor to become the cornerstone of sound quality, adopted the precise conductor "102 SSC" in pursuit of high-quality sound.

Cable conductor and the plug, soldering lead-free silver solder SS-47, which is friendly to high-quality sound and the environment.

Red / Black / three colors of silver deployment. Affordable reasonable price.

Strictly production management has been domestic manufacturing.

SHURE : SE215 / SE215SPE / SE315 / SE425 / SE535 / SE535LTD / SE846
Ears Ultimate : UE900 / UE900s
SONY : XBA-Z5 / XBA-A3 / XBA-A2 / XBA-H3 / XBA-H2
JVC : HA-FX1100 / HA-FX1000 / HA-FX850
PIONEER : DJE-2000 / DJE-1500
WESTONE : ES60 / ES50 / ES30 / ES20 / ES10
Fidue : A83
Warrior Sound : SW-HP10
ONKYO : ES-CTI300 / ES-HF300 / ES-FC300 / IE-CTI300 / IE-HF300 / IE-FC300
NuForce : PRIMO8
Fi Audio Re Camp : ANDROMEDA / JUPITER / NOVA / ORION
Ultrazone : IQ / EDITION8 Romeo / Julia
ONKYO X Sivantos: IE-C1 / IE-C2 / IE-C3
Panasonic:RP-HDE10

FLY AUDIO : Stone / Resin / Fader / Roadie
FOSTEX : TE-5 / TE-7
PIONEER : SE-CX8 / SE-CX9
WESTONE : UMPRO Series / W Series
Lab Kumitate : TRIO / CANON
**Please note that there may be a 3-5 day delay between the time you place your order and the time it is dispatched**